Without evidence, 51 former intel officials signed a letter claiming that the Hunter Biden laptop story was Russian disinformation and likely fabricated.
Now, it has been admitted that the laptop story was real, the disinformation seems to be from spy officials desperate to elect Joe Biden.
The letter was part of a campaign to change the narrative, that also included social media censorship, conspiracy theory labels, and the suppression of information by big media and big tech.
The spies said it was evidence enough that the emails were fake due to them being anti-Biden.
Biden never denied the story, but the spies did their best to get in front of the story despite the Biden's being unable to deny.
The New York Post, who posted the story, and had it suppressed reports:
The officials, including CNN pundit and professional fabricator James Clapper — a man who was nearly charged for perjury for lying to Congress — signed a letter saying that the laptop "has the classic earmarks of a Russian information operation."
What proof did they have? By their own admission, none. "We do not know if the emails . . . are genuine or not," the letter said. They're just "suspicious." Why? Because they hurt Biden's campaign, that's evidence enough.
Keep in mind this was written Oct. 19, 2020, five days after The Post published its first story. Neither Joe Biden nor Hunter Biden had denied the story, they simply deflected questions. Didn't these security experts think that if this was disinformation, the Biden campaign would have yelled to the heavens that the story was false?
…
Politico picked up the letter and ran the false headline "Hunter Biden story is Russian disinfo, dozens of former intel officials say." That headline is still online today, even though the letter clearly says they don't know if it's Russian disinformation.
Before the letter Twitter banned the post story stating that it was hacked information, which is was not.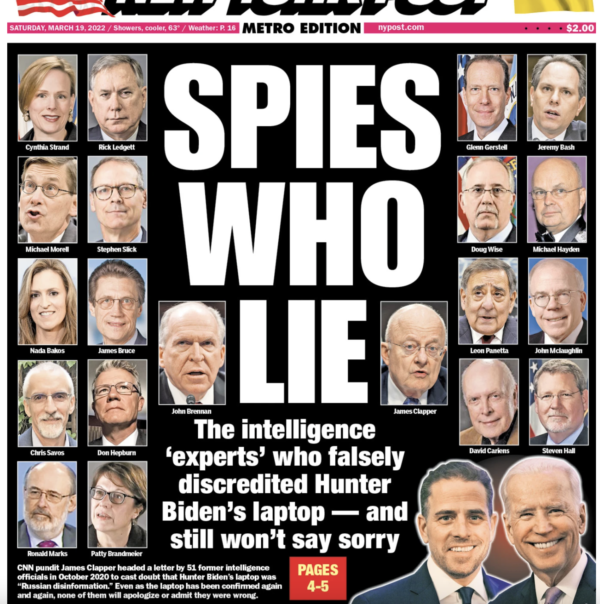 [READ NEXT: China Threatens Biden Admin]
About Post Author